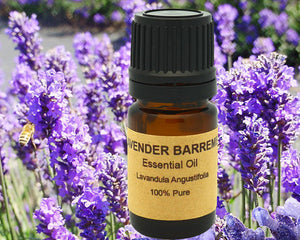 Lavender Essential from France, Region of
Regular price
Sale price
$18.00
---
Lavender oil Barreme is made through steam distillation of Lavender flower spikes. Lavender Barreme-considered the most relaxing of all lavenders. Grown in the chalky soils and dry climate of the Barreme region of France, this lavender has a superior floral aroma with high therapeutic benefit. With a content of over 50% aroma esters naturally occurring this lavender maintains a crisp, floral aroma.
Valued as one of the finest quality lavender's available on the market. Lavender is a hardy shrub which grows up to one meter in height. Lavender is the most widely used essential oil in aromatherapy. There are a lot of Lavender Oils in the market, this is a distinct Essential Oil from the French region of Barreme.
Lavender Oil is extensively used in the cosmetic industry, whether it is in Lotions or perfumes. Its pleasant smell makes it a commonly use oil in toiletries and other fragrance industries. This is a Lavender grown at a high altitude and thus typically has high ester content (52%:linalyl, terpenyl, lavandulyl and geranyl acetates), which is why it is called 50‐52% oil. The higher the Linalool and linalyl acetate contents, supposedly the more relaxing properties are of the lavender oil.
Botanical Name: Lavandula angustifolia Country of origin: France, Region of Barreme Extraction Method: Steam Distilled Plant part: Lavender flower spikes Scent: Lavender Essential Oil French from french region of Barreme. It has a floral, herbaceous, fresh scent with balsamic woody undertone. Strength of Aroma: Strong Note:
High Ingredients: Lavandula officinalis Blends well with: Bay, Bergamot, Chamomile, Citronella, Clary Sage, Geranium, Jasmine, Lemon, Mandarin, Orange, Palmarosa, Patchouli, Pine, Thyme, Rosemary, Rosewood and Ylang-ylang. History: Lavender has been used since ancient times. Romans added lavender to their bath water, hence the name derived from the word 'to wash' - lavare.